A Metabiography of Alexander von Humboldt
Schlagworte:
Metabiography
Abstract
Abstract
The author's recently published monograph on Alexander von Humboldt describes the multiple images of this great cultural icon. The book is a metabiographical study that shows how from the middle of the nineteenth century to the present day Humboldt has served as a nucleus of crystallisation for a variety of successive socio-political ideologies, each producing its own distinctive representation of him. The historiographical implications of this biographical diversity are profound and support current attempts to understand historical scholarship in terms of memory cultures.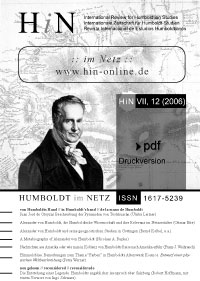 Downloads
Zitationsvorschlag
Rupke, N. A. (2006). A Metabiography of Alexander von Humboldt . HiN - Alexander Von Humboldt Im Netz. Internationale Zeitschrift für Humboldt-Studien, 7(12), 69–72. https://doi.org/10.18443/74
Lizenz
Copyright (c) 2006 Nicolaas A. Rupke
Dieses Werk steht unter der
Lizenz Creative Commons Namensnennung - Nicht-kommerziell 4.0 International
.
Die Rechte der eingesandten Artikel bleiben bei den Autoren und werden unter einer Creative Commons-Lizenz (CC BY-NC 4.0) veröffentlicht. Alle bei HiN publizierenden Autorinnen und Autoren akzeptieren dieses Lizenzmodell.
Die Autorinnen und Autoren tragen die Verantwortung für das Einwerben der Bildrechte.
Die Rechte am Layout und Design der Zeitschrift sind nicht übertragbar und können nicht ohne vorherige Zustimmung von HiN in anderen Publikationen weiterverwendet werden.