Alexander von Humboldt's ideas on volcanism and their influence on Russian scientists
Schlagworte:
1829, P. Kropotkin, P. Semenov, Samarium, Vulkanismus
Abstract
Abstract
The article provides historical background for Alexander von Humboldt's expedition into Russia in 1829. It includes information on Humboldt's works and publications in Russia over the course of his lifetime, as well as an explanation of the Russian scientific community's response to those works. Humboldt's ideas on the existence of an active volcano in Central Asia attracted the attention of two prominent Russian geographers, P. Semenov and P. Kropotkin, whose views on the nature of volcanism were quite different. P. Semenov personally met Humboldt in Berlin. P. Kropotkin made one of the most important geological discoveries of the 19th Century: he found the fresh volcanic cones near Lake Baikal.
Soon after Humboldt's Russian expedition, and partly as a result of it, an important mineral was found in the Ilmen mountains – samarskite, which later gave its name to the chemical element Samarium, developed in 1879. At the beginning of the 20th Century, the Russian scientist V. Vernadskiy pointed out that samarskite was the first uranium-rich mineral found in Russia.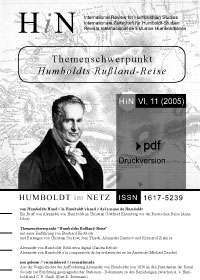 Downloads
Zitationsvorschlag
Zemtsov, A. (2005). Alexander von Humboldt's ideas on volcanism and their influence on Russian scientists . HiN - Alexander Von Humboldt Im Netz. Internationale Zeitschrift für Humboldt-Studien, 6(11), 31–37. https://doi.org/10.18443/66
Rubrik
Humboldts Russland-Reise
Lizenz
Copyright (c) 2005 Alexander Zemtsov
Dieses Werk steht unter der
Lizenz Creative Commons Namensnennung - Nicht-kommerziell 4.0 International
.
Die Rechte der eingesandten Artikel bleiben bei den Autoren und werden unter einer Creative Commons-Lizenz (CC BY-NC 4.0) veröffentlicht. Alle bei HiN publizierenden Autorinnen und Autoren akzeptieren dieses Lizenzmodell.
Die Autorinnen und Autoren tragen die Verantwortung für das Einwerben der Bildrechte.
Die Rechte am Layout und Design der Zeitschrift sind nicht übertragbar und können nicht ohne vorherige Zustimmung von HiN in anderen Publikationen weiterverwendet werden.